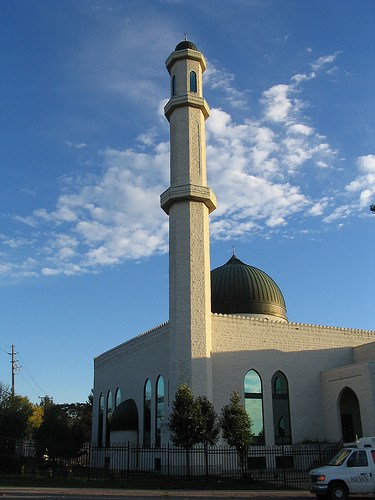 Established in 1969, the Islamic Foundation of Toronto (IFT) is one of the oldest Muslim organizations in Canada. It began as a 3000 sq. ft. building at Rhodes Avenue initially which was later transformed into the towering institution that it is today.
It was in 1984 that the 2.3 acres of lands where the Islamic Center currently resides was purchased. This marked the beginning of a new era for IFT. It moved beyond a neighborhood mosque and grew into a multidimensional center that would serve as the hub to unite the residents of the Greater Toronto area. It would come to house an extensive repertoire of religious and educational programs as well as highly needed social services. To nurture our future generations, we recognized that adequately preparing our children is vital to tackle the challenges that come with living in this society. It was to this end that an elementary school was initiated, emphasizing excellence in education in an environment that fostered Islamic values.
Throughout our journey in realizing this dream, we faced multiple obstacles including a court challenge that lasted over five years to simply obtain a building permit. With Allah's (SWT) blessing, we finally completed construction of the Center in 1992 a total cost of about six million dollars. Our Center was only possible due to the generosity of the local Muslim community who donated nearly all the funds for this project. The product of our collective efforts was a majestic three-storied institution built of white stone and accompanied by a 125 feet tall minaret. A copper-clad dome scrapes the skyline, capturing the best in Islamic architecture and symbolizing the Muslim presence in Canada.
With an area of 53, 000 sq. ft, the institution encloses spacious prayer halls for brothers and sisters, 12 well-equipped classrooms, a large cafeteria and a kitchen. A gymnasium which doubles as an auditorium provide our students and community members an opportunity to unwind as well as to hold special events. A library stocked with both religious texts, research items as well as fiction provide loan services for all patrons. A mortuary is also present to serve the deceased within our community as part of our burial services. To ensure accessibility for all visitors, we also have ramps and an elevator along with designated parking spaces from amongst our 200 spots.
The Center can be easily reached by car and public transportation and is open for the five daily prayers. Nearly 2000 worshippers make up the Friday congregation for the Jumuah prayer. Our full-time school employs a highly-qualified staff and boasts a burgeoning student population of over 600 students from Junior Kindergarten to Grade 12. The evening and weekend Islamic schools count over 400 students as their pupils. Our educational services are further augmented with the implementation of a full-time Hifz School along with evening Hifz classes. For our adult members, we host daily programs ranging from Arabic to Fiqh classes.
We recognize the need to supplement education with healthy recreational outlets for our youth. It is with this mindset that we host sports tournaments as well as drop-in sports for both brothers and sisters. We understand that a holistic approach is necessary to cater to our congregation and beyond. This is why we are heavily active in collaborating with other Muslim organizations in organizing programs that cater to our community's diverse needs.
To provide guidance on all Center-related matters, IFT's governance is comprised of an elected "Majlis" board of seven members. A Board of Trustees, which also holds the title to the property and advises the Majlis, ensures that a system of checks and balances is consistently maintained within the organization. Accountability is ascertained by annually publishing audited accounts along with open access to all books and meetings. While much has been accomplished since the Center was first built, we pray that we can continue to grow to better serve our community. To this end, we require your continued support, both financial and spiritual.