Islamic Foundation of Toronto Has Re-Opened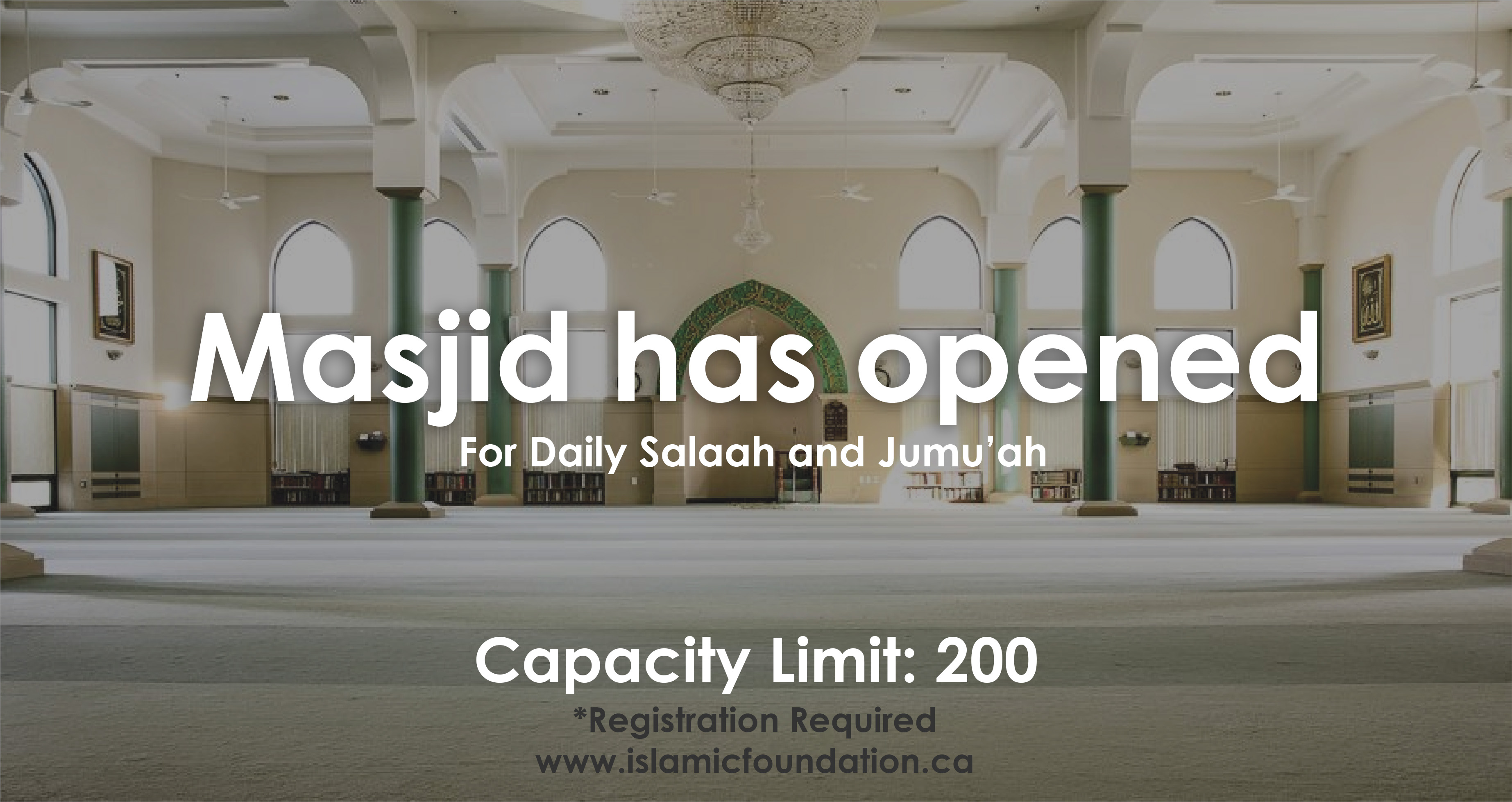 Assalamu Alaykum
We are pleased to announce that the IFT masjid will be operational for the public with a 15% building capacity as of Monday 15th of March 2021 In-Shā Allāh. We look forward to welcoming you. The masjid will be opened for regular daily 5 prayers and Friday Jumuah services. For daily prayer timings, please visit our website at:
www.IslamicFoundation.ca
.
For Jumu'ah services, we will have 3 prayers as follows:
1:15 PM - IFT Masjid Building
1:45 PM - IFT School Building
2:15 PM - IFT Masjid Building
Please follow all protocols of wearing face masks, physical distancing, your own prayer mats. Please leave the masjid after Fard prayers and perform your sunnah prayers at home.

Protocols:
- Anyone experiencing any symptoms of illness should not attend (fever, runny nose, coughing, sneezing, etc).
- Those with pre-existing health conditions are advised not to attend.
- We highly recommend that seniors not attend, and pray at home.
- Attendees are required to bring their own prayer mats.
- Attendees will be required to maintain social distancing from others, including during prayer. Prayer areas will be clearly marked.
- Washroom facilities will not be made available. Please ensure that you attend with wudhu'.
- Attendees are required to wear face masks at all times.
- Attendees are required to keep their shoes with them to avoid crowding. A bag should be brought for safekeeping of one's shoes.
- Children under the age of 14 are not permitted to attend at this time.
- Attendees are expected to leave at the conclusion of prayers (sunnah prayers should be performed at home) with no socializing or hanging out happening on the grounds of the masjid that includes outside in the parking lot.

We appreciate everyone's cooperation with our staff and volunteers.

We are also making preparations for Ramadān. Please do continue supporting IFT with your donations and prayers.

Thank you/ Jazākumullāh Khayr
Syed Shah M. Quadri
Director of Dawah