Islamic Foundation of Toronto Has Re-Opened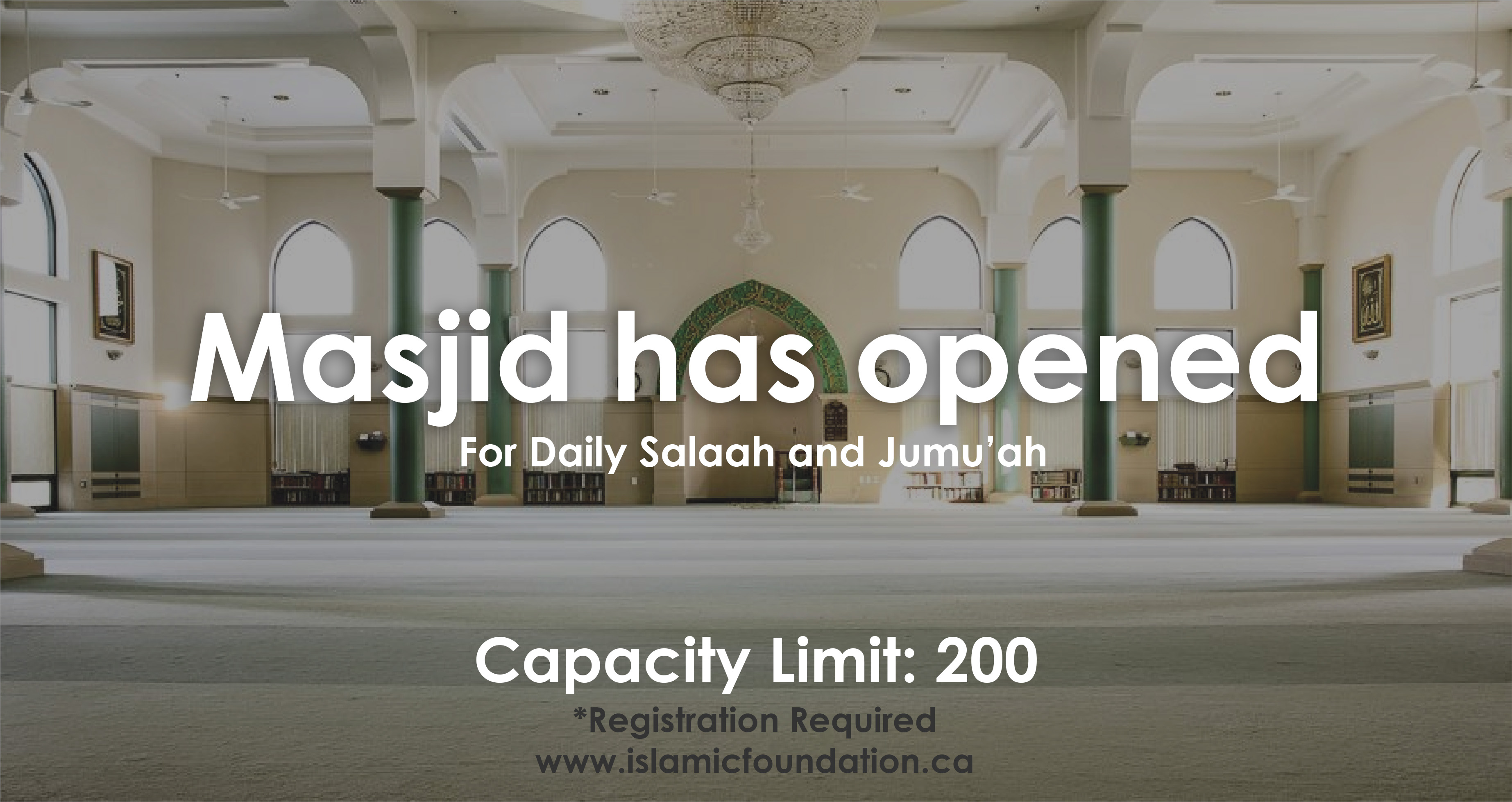 * Please note: Jumu'ah time for June 19:
Jumuah 1: 1:45 (Gates Open 30 Mins Prior)
Jumuah 2: 2:30 (GatesOpen 30 Mins Prior)
Asalaamu Alaikum our dear congregants,
Alhamdulilah, last week our Masjid opened it doors for the first time in nearly three months. Jumuah and subsequent prayers since then have been largely successful with our congregants maintaining physical distancing, and following our other protocols. Insha'Allah let's all continue to follow the below guidelines. We thank you for understanding and for your compliance.
To uphold provincial regulations, please fill out this form to join us at the masjid. Registration is required.
https://forms.gle/3Q7mt45j5skASP1Y7
Protocols:
- Anyone experiencing any symptoms of illness should not attend (fever, runny nose, coughing, sneezing, etc).
- Those with pre-existing health conditions are advised not to attend.
- We highly recommend that seniors not attend, and pray at home.
- Attendees are required to bring their own prayer mats.
- Attendees will be required to maintain social distancing from others, including during prayer. Prayer areas will be clearly marked.
- Washroom facilities will not be made available. Please ensure that you attend with wudhu'.
- Attendees are required to wear face masks at all times.
- Attendees are required to keep their shoes with them to avoid crowding. A bag should be brought for safekeeping of one's shoes.
- Children under the age of 14 are not permitted to attend at this time.
- Attendees are expected to leave at the conclusion of prayers (sunnah prayers should be performed at home) with no socializing or hanging out happening on the grounds of the masjid that includes outside in the parking lot.
- We are offering two (2) Jumuah prayers which will be offered on a first come first serve basis. Also note the Jumuah service will be shortened so arriving late will result in missing the prayer. First Jumuah prayer is being led by Shaykh Badāt at 1:45 PM and second by Imam Qari Yunus at 2:30 PM.
JazakAllah,
Islamic Foundation of Toronto